Best Consumer-Grade EMF Meters
(About $1000 for a set)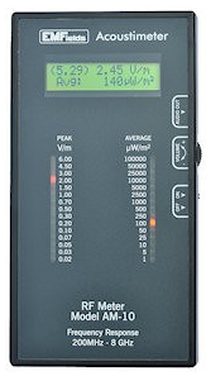 Best Consumer Grade RF Meter - Acoustimeter

This RF meter measures WiFi, cell phones, cordless phones, smart meters, cell towers, and
other wireless devices with a wide frequency range of (200 MHz - 8GHz)

The only thing it really can't measure would be radio and TV towers.

It has a very easy to read display, with the ability to give maximum readings.

The display is fairly sensitive, and will read down to about 1 microwatts per square meter.

The sound is much more sensitive, so you can hear cell towers than are several miles away.

The sound feature is very useful, loud enough for demonstration purposes, and can be turned off.

This is the overall best RF meter in the world without paying several thousand.

---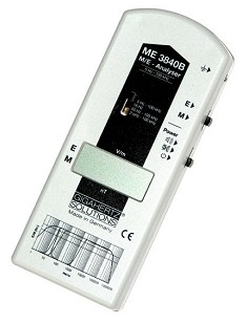 Best Consumer-grade AC Gaussmeter and AC Electric Field Meter -
Gigahertz Solutions ME3840B

This is a mid-range meter from a company that makes very precise equipment.

Best frequency detection in its price range. Covers more frequencies and is more stable.

Measures for AC Magnetic fields, which are emitted by power-lines, wiring errors, and large
appliances.

Also measures for AC electric fields, which are emitted by household wiring.

Will help you to determine which circuits to turn off at night while you are sleeping.
---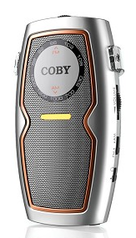 AM/FM Radio

Test for Intermediate Frequencies and Electromagnetic Noise

Some devices such as dimmer switches will emit intermediate frequencies throughout the entire home or
building, because the noise carries on all the lines. An AM radio is a great inexpensive device for detecting
this type of EMF.
---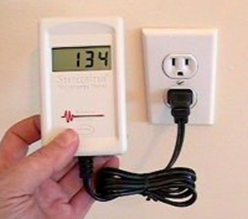 Dirty Electricity Meter - Stetzer Meter

This meter measures the amount of high frequency EMF in your wiring.

You need to test for AC magnetic fields before testing for dirty electricity.

In order to remove high frequencies from the wiring, you would filter it out with dirty electricity
filters. Or you could install shielded wires in the walls.
---